Easy. Simple. Slideshows.
Soloslides is an iOS app that plays a beautiful slideshow on your device from your Camera Roll or your Google Photos. It can cast to your Smart TV or your Apple TV too. Soloslides will run on any device with iOS 9 or newer.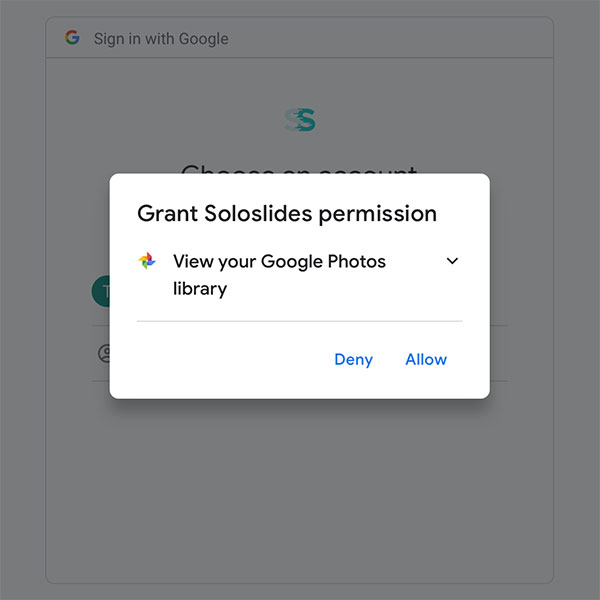 Connect your Google Photos
Features include:
• Automatically updates when photos are added to / removed from your Google Photos library or Camera Roll
• Display your photos on your Smart TV without installing an app on your TV (TV must support DLNA / UPNP)
• Display your photos on your Apple TV
• Hide photos so the app doesn't show them anymore, without deleting or modifying the photos in any way
• Clock
• Photo creation date
• Nighttime mode can be turned on to automatically show a dim black screen during what you define as "nighttime"
• Filtering by album or date range
• Shuffle (random order) or newest-to-oldest
• Automatically filter out photos of documents, receipts, etc (Google Photos only)
• Share the currently showing photo to another app
– NEW: nighttime mode. If you turn this on, the app will show a dim black screen during the time you define as "nighttime"
– NEW: show a photo's creation date over the photo (this setting is off by default)
– NEW: a button to hide the photo currently being shown. When you hide a photo, the app will not show it again. Photos are not deleted or modified in any way.
– IMPROVED: more settings like Shuffle and the Album that you choose are remembered across app restarts
– IMPROVED: when displaying Google Photos with Shuffle turned on, there's now much less chance you'll see a duplicate photo during the days, weeks or years while the app is still discovering the phenomenal breadth of your vast, unimaginably gigantic "I actually use the infinite part of the infinite storage" photo library.